About Branch Out
The mission of Branch Out is simple: Fight for climate justice with truth and trees.
We are working at the cutting edge of climate action and media, developing a regenerative funding model which makes carbon farming the foundation of our media efforts as we work towards designing a carbon-negative media ecosystem.
How do we do it? First, we assembled a team of journalists committed to covering the climate crisis and its solutions. We highlight the perspectives that mainstream media too often overlooks, and as a nonprofit, we are free from the conflicts of interest that distorts the reporting of corporate-backed media outlets. Through our independent media coverage, we tell the truth about pollution, climate science, regenerative agriculture, social issues, and everything in between.
Second, we engage with partner organizations to help them fund and execute carbon farming projects. We have worked with a wide array of organizations, from the San Francisco Bay Area to the Sahel, and back to Southern Oregon. These projects have focused on reforestation, permaculture, and regenerative agriculture as a means of putting carbon back in the soil and supporting communities most impacted by the climate crisis.
Currently, we are developing our own, in-house carbon farming capacity which we will use to support the organization as a whole while putting carbon in the ground.
Branch Out was founded as a nonprofit organization on July 10th, 2017.
---
Branch Out – Board:
Thomas Harun Hodgman – President and Founder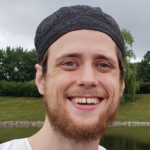 Since founding Branch Out in 2017, Thomas has guided its evolution from a tree-planting charity to a multi-faceted carbon farming and climate media organization. His current focus is on the launching of new partnerships and projects to form a strategic network capable of designing a carbon-negative media ecosystem. Outside of work, his favorite ways to pass the time are biking, hiking, gardening, and reading.
Keaton Peters – Editor-In-Chief
Keaton became involved in Branch Out early on in 2018 and quickly began leading the organization's development as an environmental news source. He has played a major role in shaping Branch Out's editorial style, recruiting and developing freelance writers, and managing Branch Out's breaking news coverage. Along the way, he has also worked for various other nonprofits and political campaigns, working on major electoral races in 2018, 2020 and 2021. Outside of work, he is also a songwriter and music producer, and enjoys basketball and hanging out with his cats.
Additional Directors:
Yahya Apanii
James Balanoff – Director of Enterprise